The role of metal stickers in daily life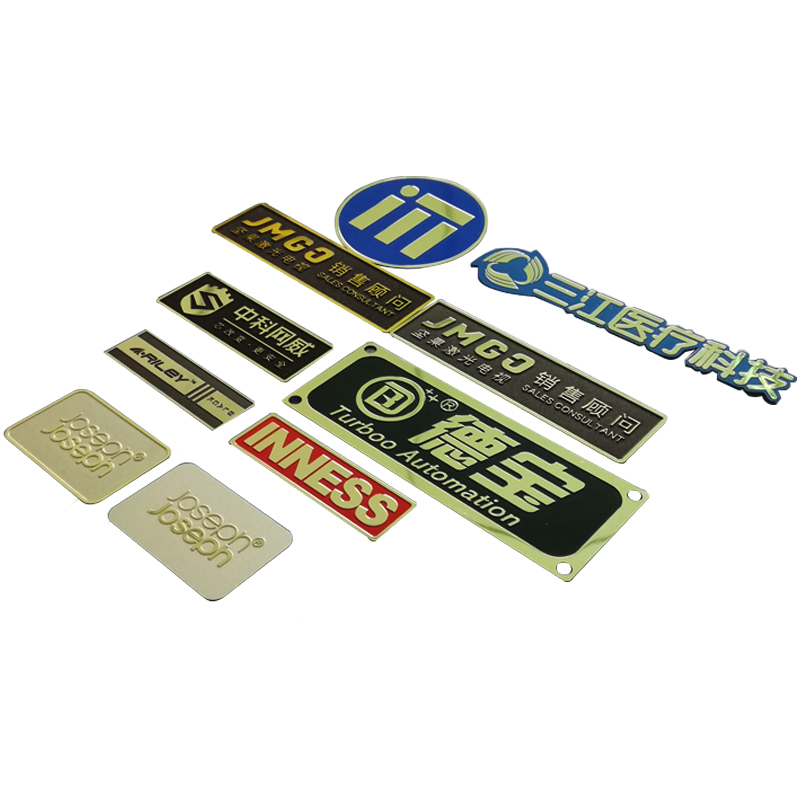 Where are metal signs usually used? For example: home appliances, clothing, furniture, packaging, etc., metal signs are used more and more in various fields of modern society. Let's take a look at the role of metal signs in daily life:
Office buildings: As a static identification symbol of the environment, the modern sign-oriented system is an indicator that can not be ignored in daily life between people. Whether it is an administrative organ that governs for the people, or large and medium-sized enterprises, office buildings, and office spaces that serve the people, the eye-catching logo-oriented system can quickly and accurately provide convenient services to the public, create a harmonious and beautiful working environment, and make your Work is fast and efficient, and has established a good corporate image.
Commercial area: No matter you walk to the dazzling, boutique stores, supermarkets, shopping malls, or the bustling, glorious bars and dance halls, the beautiful image-oriented guidance system guides you to choose the sincere products, light Relax and relax. Guide shopping, save time, establish a good image for enterprises, and increase market competitiveness.
Community plaza: The exquisite community plaza logo system has long been an indispensable and important part of the community. It not only plays a role in embellishing and beautifying the environment and guiding identification, but also allows the owners to feel the superiority of life and show the owners more. Identity, status and strength.
Educational Institutions The 21st century logo-oriented system has quietly entered the campus. It is an indispensable link in the auxiliary educational facilities of colleges and universities and has been deeply integrated into the campus culture. The campus logo-oriented system can not only give people a clear and clear display effect, but also give people a deep understanding of the overall distribution of the campus, which fully reflects the norms and humanity, and plays a positive role in promoting the construction of campus culture.
The medical organization logo system enters the hospital to change the plane functional division of the hospital in the past, which can better reflect the image and style of the hospital. At the same time, it also shows a corporate culture atmosphere full of affection, which can improve the market competitiveness for the hospital. The identification system shows unique functions, reflects the humanistic spirit of the hospital, gives people a fresh feeling, and plays the role of beautifying the environment for the hospital.
#Custom Metal logo stickers Metal nickel stickers 3D electroforming metal stickers Stainless steel metal stickers Speaker mesh metal stickers Metal nameplates for perfume bottle phone case electrical appliance
#Xüsusi Metal loqosu Etiket metal nikel stiker 3D elektroformasiya etiket paslanmayan polad stiker Ətir şüşəsi telefonu üçün elektrik cihazı metal dam örtükləri
#Niestandardowe metalowe logo naklejki Metalowe naklejki niklowe Naklejki 3D do elektroformowania Naklejki ze stali nierdzewnej Metalowe tabliczki na butelki perfum Obudowa na telefon
#Custom Metal Logo Aufkleber Metall Nickel Aufkleber 3D Galvanoforming Aufkleber Edelstahl Aufkleber Metall Typenschilder für Parfüm Flasche Handyhülle Elektrogerät
# Custom Металлическая наклейка с логотипом Металлическая никелевая наклейка 3D электроформовочная наклейка Наклейка из нержавеющей стали Металлические шильдики для флакона духов чехол для телефона электроприбор
#Autocollant de logo en métal personnalisé Autocollant de nickel en métal Autocollant d'électroformage 3D Autocollant en acier inoxydable Plaques stickersalétiques en métal pour bouteille de parfum étui de téléphone appareil électrique
# 사용자 정의 금속 로고 스티커 금속 니켈 스티커 3D electroforming 스티커 스테인레스 스틸 스티커 금속 명판 향수 병 전화 케이스 전기 기기
# Adesivo logo personalizzato in metallo Adesivo in metallo nickel Adesivo elettroformante 3D Adesivo in acciaio inossidabile Targhette metalliche per elettrodomestico custodia per telefono bottiglia di profumo