What is the manufacturing process of stainless steel metal stickers?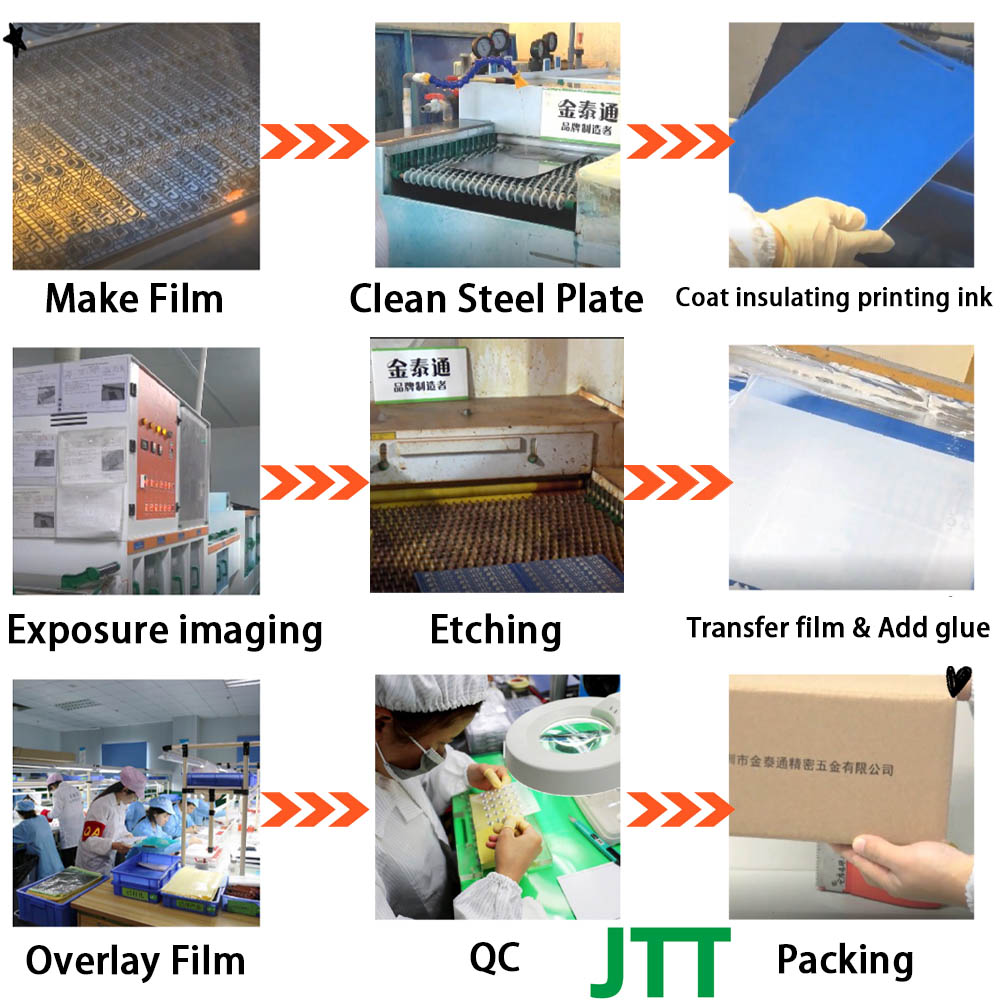 It is understood that stainless steel is a special material, and its manufacturing process is much more difficult than copper and aluminum plates, but it has good resistance to atmospheric and fresh water medium corrosion, and the decorative effect is very good after corrosion, polishing, and wire drawing. Beautiful, so the fastest corrosion method for stainless steel is electrochemical corrosion, also known as electrolytic corrosion.
Since electrochemical corrosion will cause the ink to fall off during the corrosion of stainless steel stickers, stainless steel stickers are not suitable for electrochemical corrosion, especially fine patterns. We have selected the chemical corrosion of Sanlizhuang Craft Factory here, the main raw material of chemical corrosion is ferric chloride, the following is the formula of ferric chloride corrosion stainless steel:
Ferric chloride, active agent, water. The Baume degree of ferric trichloride in the formula should be kept at around 42, and 0.8-1.2 ml of active agent is added per liter of ferric chloride solution. The bottom surface of the stainless steel corroded by this formula is smooth and smooth, without black passivation film and pitting.
The factors that affect the corrosion of stainless steel by ferric chloride solution are as follows:
 The effect of concentration.
Chemical corrosion We also say that the more positive the oxidation-reduction potential of the microbattery corrosion, the faster the corrosion rate. As the concentration increases, the redox potential becomes positive and the corrosion rate increases accordingly. Industrial grade ferric chloride is not high in purity and its oxidation-reduction potential is relatively negative. Only when the Baume degree reaches 42 or more can the oxidation-reduction potential meet the requirements of corroding stainless steel.
2. The effect of PH value on the corrosion rate in the stainless steel stickers making solution.
Low PH value is powerful for corrosion of stainless steel; too high PH value ferric chloride is hydrolyzed into ferric hydroxide precipitation, losing corrosion. To a certain extent, the corrosive liquid should be adjusted to its PH value in production.
3. The influence of the temperature of the corrosive liquid when making stainless steel stickers.
The higher the temperature of the corrosive liquid, the faster the corrosion rate. However, considering the bearing capacity of the corrosion-resistant ink, the temperature should be controlled between 30–40°C.
#Custom Metal logo stickers Metal nickel stickers 3D electroforming metal stickers Stainless steel metal stickers Speaker mesh metal stickers Metal nameplates for perfume bottle phone case electrical appliance
#Xüsusi Metal loqosu Etiket metal nikel stiker 3D elektroformasiya etiket paslanmayan polad stiker Ətir şüşəsi telefonu üçün elektrik cihazı metal dam örtükləri
#Niestandardowe metalowe logo naklejki Metalowe naklejki niklowe Naklejki 3D do elektroformowania Naklejki ze stali nierdzewnej Metalowe tabliczki na butelki perfum Obudowa na telefon
#Custom Metal Logo Aufkleber Metall Nickel Aufkleber 3D Galvanoforming Aufkleber Edelstahl Aufkleber Metall Typenschilder für Parfüm Flasche Handyhülle Elektrogerät
# Custom Металлическая наклейка с логотипом Металлическая никелевая наклейка 3D электроформовочная наклейка Наклейка из нержавеющей стали Металлические шильдики для флакона духов чехол для телефона электроприбор
#Autocollant de logo en métal personnalisé Autocollant de nickel en métal Autocollant d'électroformage 3D Autocollant en acier inoxydable Plaques stickersalétiques en métal pour bouteille de parfum étui de téléphone appareil électrique
# 사용자 정의 금속 로고 스티커 금속 니켈 스티커 3D electroforming 스티커 스테인레스 스틸 스티커 금속 명판 향수 병 전화 케이스 전기 기기
# Adesivo logo personalizzato in metallo Adesivo in metallo nickel Adesivo elettroformante 3D Adesivo in acciaio inossidabile Targhette metalliche per elettrodomestico custodia per telefono bottiglia di profumo