Advantages of electroforming metal stickers process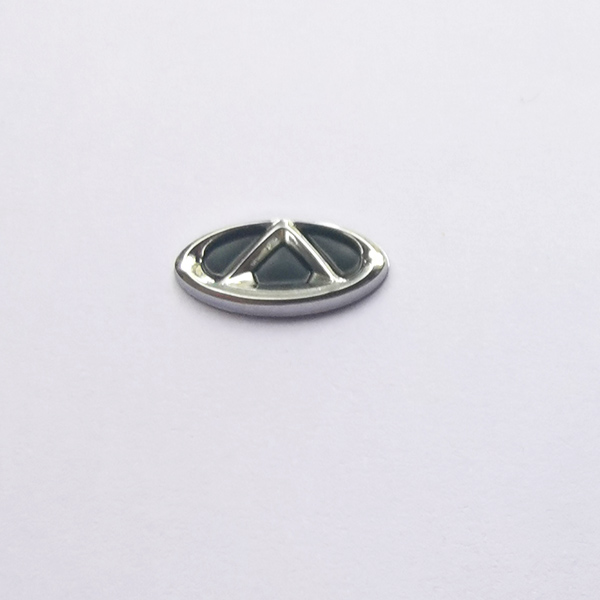 What is electroforming metal stickers?
Electroforming is the process of electrodepositing and separating on a mandrel to manufacture (or copy) metal products. Electroforming is the same as electroplating. The difference is that electroplating needs to combine the solid metal coating with the substrate to achieve the purpose of protection and decoration. When the electroformed layer on the cathode conductive mold gradually increases and reaches the required thickness, the electroforming is stopped and the electroformed part is separated from the original mold to obtain the electroformed part opposite to the surface of the original model. The shape and surface roughness of the electroformed parts are similar to the original mold.
The advantages of electroforming process:
Electroformed products have a strong metallic feel, high grade and good wear resistance.
The inner surface of the parts that are difficult to process can be processed to form the outer surface of the core, and the metal that is difficult to form can be processed into a core material that is easy to form (such as wax, resin, etc.), so it can not be made by other methods. (Or difficult) the special shape of the finished part
Can accurately reproduce the surface contour and thin lines, so it can be ultra-precision machining, easy to process complex shapes of parts;
Products with high dimensional accuracy and good surface finish can be obtained. Electric castings produced on the same mandrel have good consistency.
By changing the composition and working conditions of the solution and using additives, the performance of the electroformed layer can be changed in a large range to meet different needs;
High-purity metal products (electrolytic metals), multi-layer structural parts, and various metal and non-metal parts can be plated into one;
Type of electroforming:
Electroforming metals usually have three kinds of copper, nickel and iron. Sometimes gold, silver, platinum nickel-cobalt, cobalt-tungsten and other alloys are also used, but nickel electroforming is the most widely used. The thickness of the electroformed layer is usually 0.02~6 mm, but some thickness can reach 25 mm. The dimensional error between the electroformed part and the original mold is only a few microns.
#Custom Metal logo stickers Metal nickel stickers 3D electroforming metal stickers stainless steel metal stickers Metal nameplates for perfume bottle phone case electrical appliance
#Xüsusi Metal loqosu Etiket metal nikel stiker 3D elektroformasiya etiket paslanmayan polad stiker Ətir şüşəsi telefonu üçün elektrik cihazı metal dam örtükləri
#Niestandardowe metalowe logo naklejki Metalowe naklejki niklowe Naklejki 3D do elektroformowania Naklejki ze stali nierdzewnej Metalowe tabliczki na butelki perfum Obudowa na telefon
#Custom Metal Logo Aufkleber Metall Nickel Aufkleber 3D Galvanoforming Aufkleber Edelstahl Aufkleber Metall Typenschilder für Parfüm Flasche Handyhülle Elektrogerät
# Custom Металлическая наклейка с логотипом Металлическая никелевая наклейка 3D электроформовочная наклейка Наклейка из нержавеющей стали Металлические шильдики для флакона духов чехол для телефона электроприбор
#Autocollant de logo en métal personnalisé Autocollant de nickel en métal Autocollant d'électroformage 3D Autocollant en acier inoxydable Plaques stickeralétiques en métal pour bouteille de parfum étui de téléphone appareil électrique
# 사용자 정의 금속 로고 스티커 금속 니켈 스티커 3D electroforming 스티커 스테인레스 스틸 스티커 금속 명판 향수 병 전화 케이스 전기 기기
# Adesivo logo personalizzato in metallo Adesivo in metallo nickel Adesivo elettroformante 3D Adesivo in acciaio inossidabile Targhette metalliche per elettrodomestico custodia per telefono bottiglia di profumo