Bank card standing gold LOGO metal stickers parameters and production process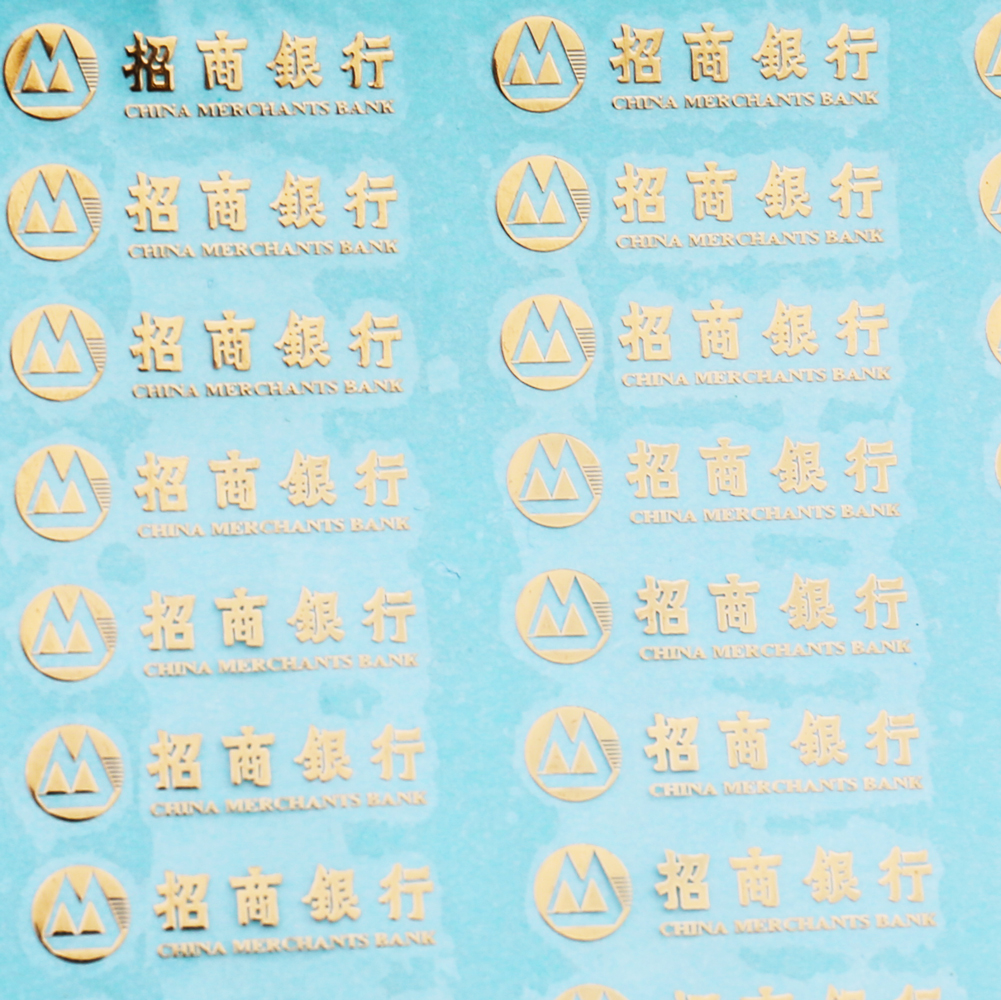 Bank card standing gold LOGO stickers parameters
Name: Metal nickel stickers (also known as electroplated trademark, nickel sheet metal label, electroformed nameplate, self-adhesive metal logo)
Thickness: 0.04mm-0.12mm
Material: Nickel (The nickel material used is imported from Canada, environmentally friendly and pollution-free)
Effect: Silver (can also be bright, matte, silver, gold, gun color, pearl nickel, mesh, brushed)
Glue:
Water glue (water glue is used for surface bonding, the bonding strength is good, it can be cured at room temperature or medium temperature, and it has the characteristics of small curing shrinkage, yellowing resistance, colorless and transparent, etc. It belongs to environmental protection chemicals , Surface spraying is recommended to use adhesive)
The hot melt adhesive is not sticky at room temperature. Use a hot melt adhesive machine to melt the hot melt adhesive thermally. You need to heat the hot press to more than 120 ℃ to dissolve the glue to make it sticky. It is often used in leather goods, bank cards and other products. Hot melt adhesive has the advantages of easy packaging, transportation, storage, no solvent, no pollution, non-toxic type; and simple production process, high added value, high bonding strength, fast speed and so on. Good results can be obtained even when bonding on uneven surfaces.
Bank card standing gold LOGO process:
Electroplating (In order to achieve the mirror effect required by customers, nickel electroplating is chrome plated after polishing. Nickel is a highly polishable metal. For the chrome electroplating process, it is an excellent substrate and can achieve a perfect mirror effect than stainless steel. )
Please note: (The metal plated by our company is nickel. Nickel is used for the appearance or appearance to improve the corrosion resistance and wear resistance. However, it should be noted that if it is a DIN head or N head electronic product, try not to use nickel as a base. , Because nickel is magnetic, it will affect the power supply intermodulation in electrical performance)
Uses: Nickel-plated stickers are widely used, suitable for electronic products, digital products, bank card standing gold LOGO, mobile phone holsters, household appliances, high-end gift boxes, etc. Nickel sheet is relatively thin, it can be integrated with the product, there is no abruptness, and the metal texture is strong. Many high-end products and luxury brands choose to use nickel-plated stickers as decoration.
#Custom Metal logo stickers Metal nickel stickers 3D electroforming metal stickers stainless steel metal stickers Metal nameplates for perfume bottle phone case electrical appliance
#Xüsusi Metal loqosu Etiket metal nikel stiker 3D elektroformasiya etiket paslanmayan polad stiker Ətir şüşəsi telefonu üçün elektrik cihazı metal dam örtükləri
#Niestandardowe metalowe logo naklejki Metalowe naklejki niklowe Naklejki 3D do elektroformowania Naklejki ze stali nierdzewnej Metalowe tabliczki na butelki perfum Obudowa na telefon
#Custom Metal Logo Aufkleber Metall Nickel Aufkleber 3D Galvanoforming Aufkleber Edelstahl Aufkleber Metall Typenschilder für Parfüm Flasche Handyhülle Elektrogerät
# Custom Металлическая наклейка с логотипом Металлическая никелевая наклейка 3D электроформовочная наклейка Наклейка из нержавеющей стали Металлические шильдики для флакона духов чехол для телефона электроприбор
#Autocollant de logo en métal personnalisé Autocollant de nickel en métal Autocollant d'électroformage 3D Autocollant en acier inoxydable Plaques stickersalétiques en métal pour bouteille de parfum étui de téléphone appareil électrique
# 사용자 정의 금속 로고 스티커 금속 니켈 스티커 3D electroforming 스티커 스테인레스 스틸 스티커 금속 명판 향수 병 전화 케이스 전기 기기
# Adesivo logo personalizzato in metallo Adesivo in metallo nickel Adesivo elettroformante 3D Adesivo in acciaio inossidabile Targhette metalliche per elettrodomestico custodia per telefono bottiglia di profumo