Inspection method for electroplating process of metal logo stickers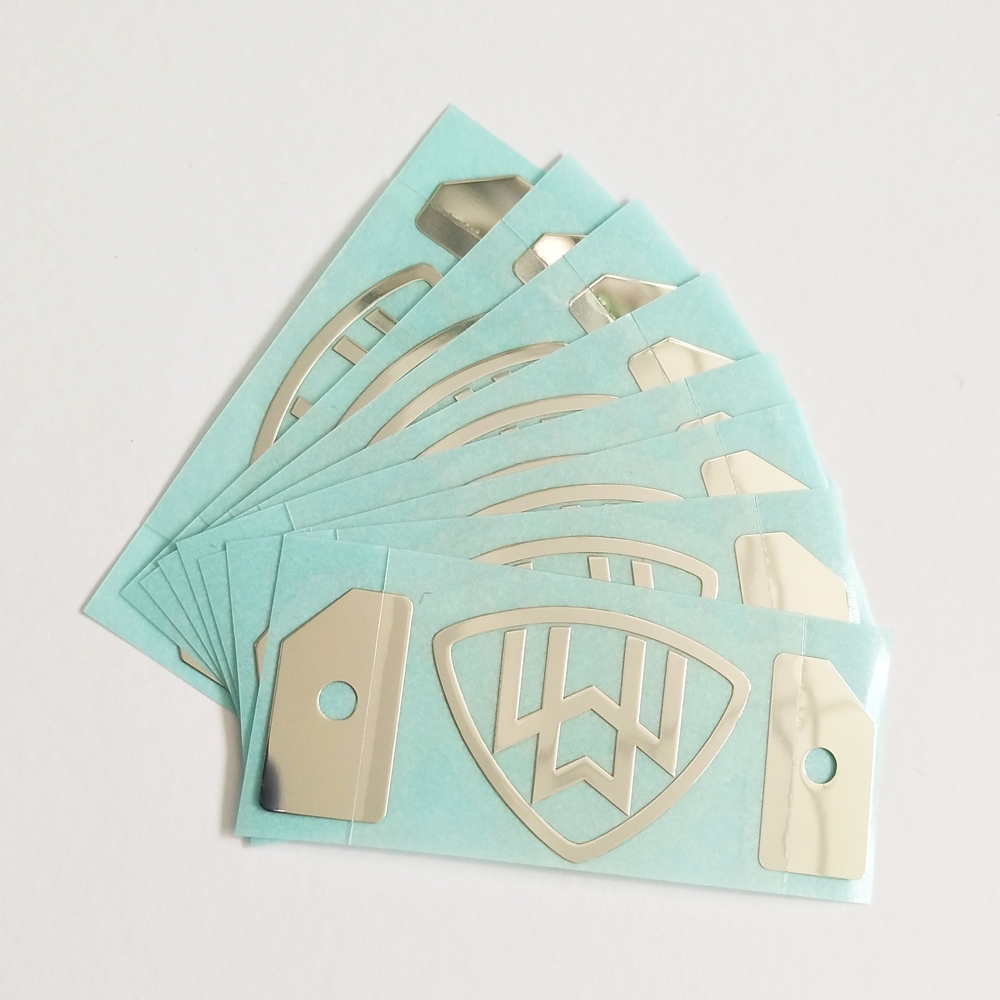 A high-quality metal stickers, from production to shipment are inseparable from efficient and orderly quality inspection, the following will introduce you to Shenzhen JTT Presicion Metal Co., LTD's metal stickers process inspection method
Sample Standard
Sensory inspection samples are the standard basis for inspectors to judge whether the inspected products are qualified or not. Therefore, in the selection or visual inspection of finished products, for example, when making samples, it is often necessary to refer to various current standards. At the same time, testing samples is also one of the standards for product quality. When selecting or making samples, you should carefully compare the quality characteristics of the product, and clarify the quality requirements and quality representation. Then mark as required to form a standard sample. After the establishment of standard samples, it is necessary to make clear provisions on the use and storage of samples.
2. Presentation method
According to the requirements, the time and occasion for the inspector to present the sample shall be stipulated. If the surface roughness samples of the parts are kept in the sample cabinet, the inspector takes out the sample and the inspected part for comparison once when starting the inspection on duty. Later, only when in doubt, the sample is taken out for comparison, and the inspector shall not use nail To touch the sample. Another example is a sample of vinyl artificial leather, placed on the inspection table of the inspection process, requiring the inspector to compare the product with the sample every two hours.
3. Storage method
In order to ensure that the sample is not easy to change, and it is easy to use, it is necessary to make provisions on the storage method and storage place. Color samples should be placed in a light-shielded container and placed in a place without direct sunlight.
4.Management
Check the storage condition regularly, and verify the samples according to the cycle. For example, the sample custodian is required to inspect samples once a month, and the standard measurement department conducts sample verification once every six months. Update immediately if you notice any deterioration or deterioration.
5. Update
Due to the gradual change of samples over a long period of time, deviation from the standard allowable range, or changes in product standards and inspection standards, it is necessary to update and provide new samples to replace the original samples.
6.Measures to prevent fatigue
During sensory inspection, inspectors are often prone to fatigue. For this reason, attention should be paid to and avoid when standardizing operating conditions. For example, appropriate rest time should be arranged for inspection operation time, and several products or multi-item inspections should be conducted continuously At the time, under the possible conditions, the inspection items that are not easy to cause fatigue should be carried out first to avoid fatigue effects.
#Custom Metal logo sticker Metal nickel sticker 3D electroforming sticker stainless steel sticker Metal nameplates for perfume bottle phone case electrical appliance
#Xüsusi Metal loqosu Etiket metal nikel stiker 3D elektroformasiya etiket paslanmayan polad stiker Ətir şüşəsi telefonu üçün elektrik cihazı metal dam örtükləri
#Niestandardowe metalowe logo naklejki Metalowe naklejki niklowe Naklejki 3D do elektroformowania Naklejki ze stali nierdzewnej Metalowe tabliczki na butelki perfum Obudowa na telefon
#Custom Metal Logo Aufkleber Metall Nickel Aufkleber 3D Galvanoforming Aufkleber Edelstahl Aufkleber Metall Typenschilder für Parfüm Flasche Handyhülle Elektrogerät
# Custom Металлическая наклейка с логотипом Металлическая никелевая наклейка 3D электроформовочная наклейка Наклейка из нержавеющей стали Металлические шильдики для флакона духов чехол для телефона электроприбор
#Autocollant de logo en métal personnalisé Autocollant de nickel en métal Autocollant d'électroformage 3D Autocollant en acier inoxydable Plaques stickeralétiques en métal pour bouteille de parfum étui de téléphone appareil électrique
# 사용자 정의 금속 로고 스티커 금속 니켈 스티커 3D electroforming 스티커 스테인레스 스틸 스티커 금속 명판 향수 병 전화 케이스 전기 기기
# Adesivo logo personalizzato in metallo Adesivo in metallo nickel Adesivo elettroformante 3D Adesivo in acciaio inossidabile Targhette metalliche per elettrodomestico custodia per telefono bottiglia di profumo