Shuai Kang Appliances logo sticker – Case Show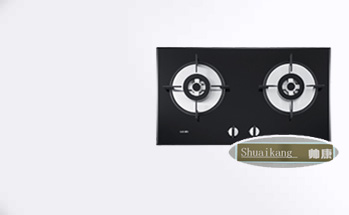 Information of the nameplate:
Type: stainless steel nameplate (also etched sign, metal nameplate)
Size: 25.17mm*9mm (other sizes are available within 360*240mm)
Thickness: 0.2mm (available thickness0.1-0.5mm)
Material: Stainless steel (the internal structure of stainless steel is tight and hard to be oxidized. It can resist corrosion caused by acid, alkali and salt. It also has many special properties, such as optical performance, etching performance, heat resistance, machining performance, wear and carve-resistance, and scrubbing resistance.
Effects: concave characters,  bushing bottom (printing as required for stainless steel signs with concave characters. Several brushing effects available: straight texture, snow texture and nylon texture. The stainless steel with brushing effect has better wear-resistance than common glossy stainless steel, and seems more elegant)
Adhesive: Water-based adhesive (water-based adhesive is used for surface bonding. It features high bonding strength and be able to cure in room temperature or moderate high temperature. Besides, it also features small cure shrinkage rate, no yellowing and transparency. It's environment-friendly chemicals. It's suggested to apply back adhesive if painting is to be applied on the surface)
Process: Etching (in this case, reverse etching method is used. There is concave characters and printing. The characters are reversed when type setting, thus to produce concave patterns.)