What are the processes of stainless steel mechanical nameplates?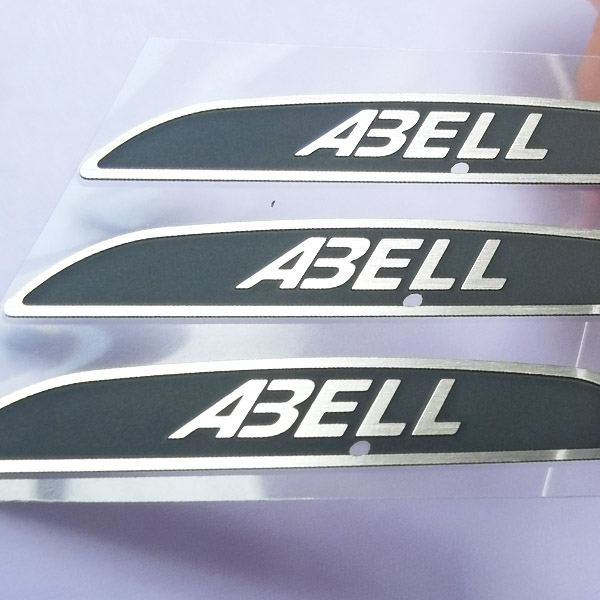 To remove the oil, rinse with dilute alkali aqueous solution or detergent, or soak with solvent. Rinse and dry with clean water.
For photoresist, use a 120-180 mesh screen to cover the metal surface with photoresist. Since photoresist is a high-sensitivity chemical material, pay attention to the screen printing site to avoid direct light or any strong light. At the same time, pay attention to dust and keep the guard of the screen printing workshop, so as to ensure the final quality of the metal sign.
The pre-bake (drying) temperature is strictly controlled at H5-9()\, and the time should not exceed the predetermined time, generally 5-15min. If the pre-bake time is too long or the temperature is too high, it will affect the quality of exposure and development. Can not even address the shadow. In addition, it must be air-dried at the same time, after drying-generally there will be no sticking phenomenon, but the internal cleaning of the blower has a great influence on the quality of the sign.
Photosensitive (light-curing) photoresist is a material that undergoes a photo-curing reaction immediately after being irradiated by ultraviolet rays. The cured film can resist corrosion by various acidic corrosives, and the exposure time is related to the intensity of the light source used. Generally 1000W, high-pressure ultraviolet mercury lamp, distance 500mm, exposure time is 45-90s. Due to the different levels of the light source used, the material of the intermediate glass is different, and the exposure time is also different. Photosensitization is best carried out in a vacuum exposure machine.
Use 0.5% sodium carbonate aqueous solution for development, and the best condition is 451-;, generally the development can be completed in 30s.
After the revision and development, there may be some blisters, you can use a fine brush to apply some resist and retouch the revision, and then dry the revision.
The hardened film can be cured at 140℃ for 30min, or 180\, and cured resist for 10min (it can also be baked directly on the electric stove or gas fire, the smoke will stop immediately)
If acid etching is used to remove the titanium gold film, the titanium gold layer must be removed first. The chemical composition of the titanium-gold layer is titanium dioxide. Sodium fluoride and a small amount of hydrochloric acid can be used to scrub the titanium-gold layer: h:1 If the electro-etching method is used, there is no need to remove the titanium-gold layer.
It is recommended to use electro-etching for etching, especially for pollution, less sulfur, and fast AL effect.
Remove the film at 45-50r, 5% sodium hydroxide aqueous solution, pay attention to safety!
#Custom Metal logo stickers Metal nickel stickers 3D electroforming metal stickers stainless steel metal stickers Speaker mesh metal stickers Metal nameplates for perfume bottle phone case electrical appliance
#Xüsusi Metal loqosu Etiket metal nikel stiker 3D elektroformasiya etiket paslanmayan polad stiker Ətir şüşəsi telefonu üçün elektrik cihazı metal dam örtükləri
#Niestandardowe metalowe logo naklejki Metalowe naklejki niklowe Naklejki 3D do elektroformowania Naklejki ze stali nierdzewnej Metalowe tabliczki na butelki perfum Obudowa na telefon
#Custom Metal Logo Aufkleber Metall Nickel Aufkleber 3D Galvanoforming Aufkleber Edelstahl Aufkleber Metall Typenschilder für Parfüm Flasche Handyhülle Elektrogerät
# Custom Металлическая наклейка с логотипом Металлическая никелевая наклейка 3D электроформовочная наклейка Наклейка из нержавеющей стали Металлические шильдики для флакона духов чехол для телефона электроприбор
#Autocollant de logo en métal personnalisé Autocollant de nickel en métal Autocollant d'électroformage 3D Autocollant en acier inoxydable Plaques stickersalétiques en métal pour bouteille de parfum étui de téléphone appareil électrique
# 사용자 정의 금속 로고 스티커 금속 니켈 스티커 3D electroforming 스티커 스테인레스 스틸 스티커 금속 명판 향수 병 전화 케이스 전기 기기
# Adesivo logo personalizzato in metallo Adesivo in metallo nickel Adesivo elettroformante 3D Adesivo in acciaio inossidabile Targhette metalliche per elettrodomestico custodia per telefono bottiglia di profumo